I have a proven track record with over ten years of full-time experience as a Senior Graphic Designer in corporate in-house environments, and five years of experience as an acting Creative Director/Marketing Manager within Fortune 500 and start-up companies. I am a creative problem solver, known for delivering design and operational improvements that have led to millions in new revenue streams and annual cost savings. My most recent project has saved the company 40K annually, and I have many additional examples of how I can quickly contribute to your organization and be a highly productive part of your team.
I am well versed in Adobe CC and developing digital media applications (as shown on my website jimquinlan.com) while keeping abreast to design trends and new media channels. I am an innovative thinker, strategist and "change-agent" influencer/mentor, who strives to exceed goals and expectations; pulling in personal resources to get the job done right no matter what the obstacle.
I graduated with honors receiving a degree in Media Production, completed post-graduate work in Instructional Learning and Technology, and earned a Teaching Credential in Multi-Media Production. I am an experienced university-level Instructor, and an experienced advertisement Writer/Producer/Director possessing an intuitive and purpose-driven technique of communicating through smart design. I produce creative results, and I can make significant contributions to meet team goals.
I am fascinated with the world of Imagination and Creativity which, in my experience, often manifests itself when practicing the Four C's: Curiosity, Confidence, Courage, and Consistency.
CURIOSITY: I'm a life-long learner, embracing the realm of possibilities, and seeking discoveries. This process has led me to a diverse range of career paths, ranging from video production, teaching, graphic design, marketing, and branding, to project management and systems integration. My unique breadth of experience includes Jungle Cruise skipper at Disneyland, Fine Arts Instructor at ABC and Centralia School Districts, Cable Television Commercial Producer at Copley Interconnect, Distance Learning Application Developer at Los Angeles Unified School District. I have also served as a Technology Literacy Instructor at California State University Long Beach, Digital Media Instructor at LAUSD, Graphic Designer/Creative Director at Laguna Woods Village, Commerce Energy, iCRco, and CTS Cement Manufacturing Corp.
CONFIDENCE: I earned my CSULB Bachelors Degree (with Honors) in Media Production. While working on my Degree, I worked at Disneyland, Anaheim, where their method of operation influenced me: View each day as one cast in an on-stage play. As a Cast Member, it is up to us to stay in character, have fun, and play a role that is personalized by charisma and integrity. With that in mind, I live by a Mark Twain motto: "Always do right – It will gratify some people and astonish the rest."
COURAGE: I am a leader who is not afraid to take calculated risks and full accountability for my failures. In doing so, I have learned valuable lessons. I embrace collaboration and the reward of learning from mentors.
CONSTANCY: I am highly dependable, personable, and flexible. I complete projects on-time, and on-task, providing a consistent high-standard of production.
I am passionate about storytelling, the arts, and interacting with creatives. Afterall, eARTh is nothing without ART.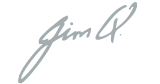 10
YEARS OF DESIGN EXPERIENCE
5
YEARS OF TEACHING EXPERIENCE
21
SUCCESSFUL PRODUCT LAUNCHES
" Jim is consistently professional. A talented individual, Jim is able to "push the envelope" and exceed expectations within a given deadline. He is extremely reliable, thorough, and highly self-motivated. He has the ability to visualize: and simplify a given message and convey it with a stylized and imaginative approach within the media arts."
James A. Figueroa
Assistant Superintendent - DACE LAUSD
" Jim's work ethic is exceptional. He consistently goes beyond what is required lo deliver high-quality projects on-time and on-budget. Jim's interpersonal skills are excellent and were demonstrated in the collaborative effort with sales, sales support., outside advertising agencies and production houses to bring each project to fruition. He is a team player, reliable and organized."
Jane Fletcher-Saginaw
V.P. Marketing - Commerce Energy
" Jim is strong in design, from initial concept to final production. He understands the importance and power of simplicity, while artfully resolving visual communication challenges. He is quick to establish a strong rapport with his creative team and colleagues, making himself available with an answer or helping hand. Developing efficient and creative processes, he works well, and cheerfully so, under tight deadlines."
Alberto O. Cruz, P.E.
Account Manager - CTS Cement
" Jim's varied background and extensive skill sets allow him to work effectively on a broad range of communication projects. Jim's work at iCRco ranged from being the lead designer on an elegant user interface and creating effective user instruction labels, to producing advertising, sales collateral, and exhibit graphics. I always found Jim's insights helpful and on-target."
Jim Burch
President - Altisima Marketing
" He displays a unique combination of being a self starter who generates creative ideas and approaches, with the willingness to collaborate with others and implement their suggestions. Jim has shown his ability to collaborate on a wide variety of projects, bringing his skills and enthusiasm to each of them."
Linda Ames
Manager, Corporate Communications - Commerce Energy
" Jim possesses excellent creative and management skills necessary to administer a project, while gaining acceptance of team personnel. The work he produces is on-time, imaginative, and accurate. During his employment with us, we have received awards and praise from industry and state governed programs for creating innovative computer-­based training applications. I believe chat his excellent management skills and out-going personality have helped our production to grow."
Dr. Bernardo Sandoval
Director, Technology Support Unit - DACE, LAUSD